Implementation of Integral Explicit Macromodels by Means of Quick-Acting Algorithms
Анотація
A class of mathematical models of dynamic objects in the integral macromodels form, built on the «input-output» principle is considered. The possibility of reducing errors and increasing speed of the modeling process using quadrature formulas based on integral macromodels in the Volterra operators form (Volterra-Hammerstein) is investigated. The constructive algorithms of numerical modeling procedures are proposed using the method of dividing kernels.
Посилання
Eikhoff P. Basics of identification management systems / P. Eikhoff. — Moscow : Mir Publ., 1975. — 683 p. (In Russian).
Aparzin A. S. Mathematical modeling of nonlinear dynamical systems by Volterra series / A. S. Aparzin, S. V. Soloducha // Electronnoe modelirovanie. — Kyiv, 1999. — № 2. — P. 3–12.
Asaubaev K. Sh. Analysis of nonlinear systems described by a number of Volterra / K. Sh. Asaubaev, A. I. Barkin, Yu. S. Popkov // Avtomatika i telemehanika. — Moscow, 1976. — № 11. — P. 5–15.
Breslavets V. S. Experimental determination nuclear device model Voltaire protection of information channels / V. S. Breslavets, V. O. Kravets, O. A. Serkov // Systemy obrobky informatsii. — Kharkiv, 1999. — № 2/5. (In Ukrainian).
Brikman M. S. Integral model of modern management theory / M. S. Brik-man. — Riga : Zinatie, 1979. — 224 p.
Verlan A. F. Methods of mathematical and computer modeling of transducers and systems based on integral equations / A. F. Verlan, M. V. Sagatov, A. A. Sytnik. — Tashkent : Fan, 2011. — 336 p. (In Russian).
Verlan A. F. Computer modeling in problems of dynamics of electromechanical systems / A. F. Verlan, V. A. Fedorchuk, V. A. Ivanuk. — Kamianets-Podilskyi, 2010. — 204 p. (In Ukrainian).
Pavlenko V.D. Construction of nonlinear systems models in the form of Volter-ra kernels using cluster computing technology / V. D. Pavlenko, V. V. Cherevatyi, V. V. Burdeinyi // Zbirka naukovyh prac. — Evpaporia : ISDMIT, 2006. — Vol. 1. — P. 159–162.
Apartsyn A. S. Mathematical modelling of the dynamic systems and objects with the help of the Volterra integral series / A.S. Apartsyn // EPRI–SEI Joint seminar. — Beijing, 1991. — P. 117–132.
Boyd S. Measuring Volterra kernels / S. Boyd, Y. S. Tang, L. O. Chua // IEEE Trans. on Circuits and Systems. — 1983. — Vol. CAS–30, No. 8. — P. 571–577.
Chua L. O. Measuring Volterra Kernels (II) / L. O. Chua, Y. Liao // Int. J. Circuit Theory and Applications. — 1989. — Vol. 17, № 2. — P. 151–190.
Samarskii A. A. Numerical Methods of Mathematical Physics / A. A. Samarskii, A. V. Gulin. — Moscow : Nauchnyi Mir, 2003. — 316 p. (In Russian).
Nikolskii S. M. Quadrature equation / S. M. Nikolskii. — Moscow : Nauka, 1988. — 255 p. (In Russian).
Bahvalov N. S. Numerical Methods / N. S. Bahvalov, N. P. Zhitkov, V. M. Kobelkov. — Moscow : BINOM, 2006. — 636 p. (In Russian).
Zaluk Z. B. Asymptotic solutions of equations Volterra-Hammerstein / Z. B. Zaluk, S. S. Chistokletova // Izvestia VUZov. Mathematika. — Moscow, 2002. — № 6. — P. 78–81.
Hachatrian H. A. On the nontrivial solvability of Hammerstein-Voltera integral equations / H. A. Hachatrian, S. A. Grygorian // Vladikavkazkii mathematicheskii jornal. — Vladikavkaz, 2012. — Vol. 14, № 2. — P. 57–66.
Poljanin A. D. Handbook of Integral Equations / A. D. Pol-janin, A. V. Manzharov. — Moscow : Fizmatlit, 2003. — 608 p. (In Russian).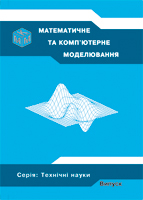 ##submission.downloads##
Ліцензія
Authors who publish with this journal agree to the following terms:
Authors retain copyright and grant the journal right of first publication with the work simultaneously licensed under a Creative Commons Attribution License that allows others to share the work with an acknowledgement of the work's authorship and initial publication in this journal.
Authors are able to enter into separate, additional contractual arrangements for the non-exclusive distribution of the journal's published version of the work (e.g., post it to an institutional repository or publish it in a book), with an acknowledgement of its initial publication in this journal.
Authors are permitted and encouraged to post their work online (e.g., in institutional repositories or on their website) prior to and during the submission process, as it can lead to productive exchanges, as well as earlier and greater citation of published work (See The Effect of Open Access).