ПОШУК АДАПТИВНИХ МЕТОДІВ ІМУНІЗАЦІЇ З ВИСОКИМ РІВНЕМ ШУМУ, ЗАЯВУ ПРО НАФТОВОЇ ПРОМИСЛОВОСТІ ЕНЕРГЕТИЧНИХ КОМПЛЕКСІВ МОДЕЛЬ УПРАВЛІННЯ ТЕЛЕМЕТРІЄЮ
Ключові слова:
signal, noise, adaptive methods, oil industry, submersible pump, communication-telemetry channels.
Анотація
Here in the paper, an analog signal processing implementation was searched for the detection the most efficient adaptive noise cancellation filters among dozens of recognized ones for telemetry control systems of oil industry electrical submersible pump under severe noisily conditions.
Посилання
Mohn F. Electric Submersible Pumps / F. Mohn. — Bergen, Norway : AS Oil & Gas, Division, Frank Mohn AS, 1994.
Lyons William C. Standard handbook of petroleum and natural gas engineering, Gulf Professional Publishing / William C. Lyons, Gary J. Plisga. — 2005.
Smart tools for oil industry. The leading manufacturer of the oil surface equipment industry in Russia. — Access mode: www.electon.ru.
Shynk J. J. Frequency-Domain and Multirate Adaptive Filtering, IEEE Signal Processing Magazine / J. J. Shynk. — 1992. — Vol. 9, № 1. — P. 14–37.
Hayes M. Statistical Digital Signal Processing and Modeling / M. Hayes. — New York : Wiley, 1996.
Alexander D. Poularikas and Zayed M. Ramadan, I. K., Adaptive Filtering Primer with MATLAB, International Pvt. Ltd, January 2006.
P. G. Ali-Zade, P. K. Kulizade. Method of electro submersible pump motor insulation checking, "Patent USSR, AC SU 271644", 1968/1970.
IEEE Recommended Practice for Specifying Electric Submersible Pump Cable-Ethylene-Propylene Rubber Insulation, IEEE Std 1018™, IEEE Industry Applications Society, New York, NY 10016-5997, USA, 13 April 2005.
Dillard Steve M. Transient Voltage Protection for Induction Motors Including Electrical Submersible Pumps / Steve M. Dillard, Thomas D. Greiner //, IEEE Transactions on Industry Applications. — March 1987. — Vol. IA-23 Issue. 2. — P. 365–370.
Boldea Ion. Electric Drives. Boca Raton / Ion Boldea, S. A. Nasar. Florida: CRC Press, 1999.
Bose B. K. Modern Power Electronics and AC Drives. Upper Saddle River / B. K. Bose. — NJ : Prentice-Hall, 2002.
International Telegraph and Telephone Consultative Committee (CCITT). — Access mode: www.itu.int/net/about/history.aspx.
Bell Telephone Company and Edison Electrical Institute. — Access mode: www.edisonfoundation.net/iee/reports/index.htm.
Inter branch rules on a labor safety (rules) at operations of electro-installations. ПОТ РМ-016-2001, PEEP and PUE (in Russian). — Access mode: http://www.enerkomp.ru/documents/need.html.
Moschner J. L. Adaptive Filter with Clipped Input Data, Ph.D. thesis, Stanford Univ / J. L. Moschner. — Stanford, CA, June 1970.
Gersho A. Adaptive Filtering With Binary Reinforcement / A. Gersho // IEEE Trans. Information Theory. — March 1984. — Vol. IT-30. — P. 191–199.
Cowan C. F. N. Adaptive Filters, Prentice Hall Signal Processing Series / C. F. N. Cowan, P. F. Adams, Peter M. Grant. — Englewood Cliffs, 1985.
Wan Eric. Adjoint LMS: An Alternative to Filtered-X LMS and Multiple Error LMS / Eric Wan // Proceedings of the International Conf. on Acoustics, Speech, and Signal Processing (ICASSP). — 1997. — P. 1841–1845.
Mallat S. A Wavelet Tour of Signal Processing / S. Mallat. — Cambridge : Academic Press, 1999.
Yilmaz M. A wavelet study of sensorless control of brushless DC motor through rapid prototyping approach / M. Yilmaz, R. N. Tuncay, O. Ustun // IEEE International Conference on Mechatronics, ICM 2004.
Yilmaz M. Sensorless Control of Brushless DC Motor Based on Wavelet Theory, Electric Power Components & Systems, Taylor & Francis / M. Yilmaz, R. N. Tuncay, O. Ustun, T. P. Krein. — October 2009. — Vol. 37, № 10.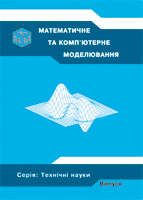 ##submission.downloads##
Ліцензія
Authors who publish with this journal agree to the following terms:
Authors retain copyright and grant the journal right of first publication with the work simultaneously licensed under a Creative Commons Attribution License that allows others to share the work with an acknowledgement of the work's authorship and initial publication in this journal.
Authors are able to enter into separate, additional contractual arrangements for the non-exclusive distribution of the journal's published version of the work (e.g., post it to an institutional repository or publish it in a book), with an acknowledgement of its initial publication in this journal.
Authors are permitted and encouraged to post their work online (e.g., in institutional repositories or on their website) prior to and during the submission process, as it can lead to productive exchanges, as well as earlier and greater citation of published work (See The Effect of Open Access).