ВИКОРИСТАННЯ ПЕРСОНАЛІЗОВАНОГО ТЬЮТОРА ДЛЯ ВРАХУВАННЯ ІНДИВІДУАЛЬНИХ ОСОБЛИВОСТЕЙ УЧНІВ В ІНТЕЛЕКТУАЛЬНИХ СИСТЕМАХ НАВЧАННЯ
Ключові слова:
диагностика, коррекция, обучающая система, обучающий стимул, тьютор.
Анотація
Использование в процессе обучения алгоритмов диагностики и коррекции позволяет проследить связь между множеством «поверхностных ошибок» и глубоким непониманием материала (диагностика), а также классифицировать ошибки и выбирать релевантную корректирующую стратегию (коррекция).
В статье исследуется возможность создания программных средств для осуществления непрерывной диагностики, совмещённой с процессом обучающего диалога, а также реализация коррекции, учитывающей индивидуальные особенности обучаемого.
Посилання
Pittman G. Teaching Structural English / G. Pittman. — Brisbane : Jacaranda, 1963.
Davies P. Situational Lesson Plans / P. Davies, J. Roberts, R. Rossner. — Mexico City : Macmillan, 1975.
Brooks N. Language and Language Learning: Theory and Practice / N. Brooks. — 2nd ed. — New York : Harcourt Brace, 1964.
Asher J. Learning Another Language Through Action: The Complete Teacher's Guide Book / J. Asher. – Los Gatos, Calif. : Sky Oaks Productions, 1977.
Grellet Francoise. Developing Reading Skills : A practical guide to reading comprehension exercises / Francoise Grellet. — Cambridge University Press, 1992.
Barrie Watson. Mini-Effort, Maxi-Returns / Watson Barrie // The British Council, English Teaching Resource Center. — Odessa, 1996.
Мельников В. М. Введение в экспериментальную психологию личности / В. М. Мельников, Л. Т. Ямпольский. — М. : Просвещение, 1985. — 319 с.
Общая психодиагностика. Основы психодиагностики, немедицинской психотерапии и психологического консультирования / под ред. А. А. Бодалева, В. В. Столина. — М. : Изд-во МГУ, 1987. — 304 с.
Пирьов Г. Д. Классификация методов в психологии / Г. Д. Пирьов. — Братислава, 1985. — C. 19–25.
Бурлачук Л. Ф. Словарь-справочник по психологической диагностике / Л. Ф. Бурлачук, С. М. Морозов. — К. : Наук. думка, 1989. — 200 с.
Верлань А. Ф. Адаптація персоналізованої· інтелектуальної· системи навчання / А. Ф. Верлань, М. Ф. Ус, О. В. Піскун // Неперервна професійна освіта: теорія і практика : зб. наук. праць. — К., 2001. — Ч. 2. — С. 8–12.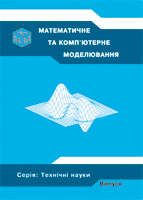 ##submission.downloads##
Ліцензія
Authors who publish with this journal agree to the following terms:
Authors retain copyright and grant the journal right of first publication with the work simultaneously licensed under a Creative Commons Attribution License that allows others to share the work with an acknowledgement of the work's authorship and initial publication in this journal.
Authors are able to enter into separate, additional contractual arrangements for the non-exclusive distribution of the journal's published version of the work (e.g., post it to an institutional repository or publish it in a book), with an acknowledgement of its initial publication in this journal.
Authors are permitted and encouraged to post their work online (e.g., in institutional repositories or on their website) prior to and during the submission process, as it can lead to productive exchanges, as well as earlier and greater citation of published work (See The Effect of Open Access).