МОДЕЛЮВАННЯ ПОВЕДІНКИ РІДИН МЕТОДОМ SPH НА БАЗІ ВІДЕОАДАПТЕРІВ
Ключові слова:
гетерогенные вычисления, CUDA, симуляция жидкости, SPH.
Анотація
В статье предложено программное решение для задачи симуляции динамики жидкостей методом SPH. Обосновано использование графического адаптера. Экспериментально доказаны преимущества предложенного решения.
Посилання
Möller M. Particle-based fluid simulation for interactive applications / M. Möller, D. Charypar, M. Gross // Proceedings of the 2003 ACM SIGGRAPH / Eurographics symposium on Computer animation. — Aire-la-Ville, 2003. — Р. 154–159.
Sauro Succi. The Lattice Boltzmann Equation for Fluid Dynamics and Beyond / Succi Sauro. — Oxford University Press, 2001. — 288 р.
Трошкин О. В. Отрывной вихрь в потоке вязкой жидкости / О. В. Трошкин // Журнал вычислительной математики и математической физики. – 1992. — № 32. — С. 329–331
Harada Takahiro. Heterogeneous particle-based simulation / Takahiro Harada // SIGGRAPH Asia 2011 Sketches. — New York, 2011. — Р. 19.
Zhang Fengquan. A SPH-based method for interactive fluids simulation on the multi-GPU / Fengquan Zhang, Lei Hu, Jiawen Wu, Xukun Shen // Proceedings of the 10th International Conference on Virtual Reality Continuum and Its Applications in Industry. — New York, 2011. — Р. 423–426
Monaghan J. J. Smoothed particle hydrodynamics / J. J. Monaghan // Annual Review of Astronomy and Astrophysics. — Clayton, 1992. — Р. 543–574.
Kirk David B. Programming Massively Parallel Processors A Hands-on approach / David B. Kirk, Wen-mei W. Hwu. — Burlington : Morgan Kaufmann, 2010. — 258 р.
Scott Le Grand. Broad-Phase Collision Detection with CUDA / Scott Le Grand // GPU Gems 3. — Boston : Addison-Wesley Professional, 2007. — Р. 697–721.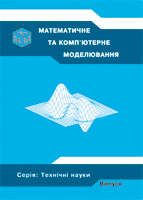 ##submission.downloads##
Ліцензія
Authors who publish with this journal agree to the following terms:
Authors retain copyright and grant the journal right of first publication with the work simultaneously licensed under a Creative Commons Attribution License that allows others to share the work with an acknowledgement of the work's authorship and initial publication in this journal.
Authors are able to enter into separate, additional contractual arrangements for the non-exclusive distribution of the journal's published version of the work (e.g., post it to an institutional repository or publish it in a book), with an acknowledgement of its initial publication in this journal.
Authors are permitted and encouraged to post their work online (e.g., in institutional repositories or on their website) prior to and during the submission process, as it can lead to productive exchanges, as well as earlier and greater citation of published work (See The Effect of Open Access).