Моделювання активного агента еротетичного діалогу
Ключові слова:
эротетический диалог, диалоговая база знаний, диалоговый метод доступа, плохо-формализуемые задачи.
Анотація
Статья посвящена описанию модели активного агента диалогового процесса эротетического типа. Отличительной особенностью предлагаемой модели является то, что в ее основу положена идея диалоговой базы знаний. Диалоговая база знаний определяется как совокупность диалогового метода доступа к памяти вопросов и самой памяти вопросов. В статье приведен необходимый онтологический базис, в рамках которого описана общая модель активного агента, и даталогическая модель диалогового метода доступа. Приведен пример отображения модели диалогового метода доступа в логическую модель реляционной базы данных.
Посилання
Newell A. Remarks on the relationship between artificial intelligence and cog-nitive psychology / A. Newell // Theoretical Approaches to Non-Numerical Problem Solving / eds. R. Banerji, J. D. Mesarovich. — New York : Springer-Verlag, 1970. — P. 363–399.
Белнап Н. Логика вопросов и ответов / Н. Белнап, Т. Стил. — М. : Про-гресс,1981. — 288 с.
Чмырь И. А. Естественный диалог: моделирование диалоговой транзакции в контексте представления знаний / И. А. Чмырь // Московский госу-дарственный университет. Интеллектуальные системы. — 2012. — Т. 16. — Вып. 1–4. — С. 73–99.
Anderson J. R. Rules of the Mind / J. R. Anderson. — N.J. : Hillsdate, Law-rence Erlbaum Associates, 1993. — 410 p.
Neisser U. Cognition and Reality. Principles and implications of cognitive psychology / U. Neisser. — San Francisco : W. H. Freeman and Company, 1976. — 230 p.
Chimir I. A. Neisser's Cycle of Perception: Formal Representation and Practical Implementation / I. A. Chimir, W. A. Abu-Dawwas, M. A. Horney // Journal of Computer Science. — 2005. — Special issue on Intelligence, Communication and Computer Interaction. — P. 106–111.
Айтьян С. Х. Инструментальные средства разработки экспертных систем на ПЭВМ / С. Х. Айтьян, К. Р. Гуарян // Микропроцессорные средства и системы. — 1989. — № 6. — C. 55–61.
Winston P. H. Artificial Intelligence / P. H. Winston. — Addison-Wesley, 1984. — 359 p.
Попов Э. В. Экспертные системы / Э. В. Попов. — М. : Наука, 1987. — 211 c.
Levin R. I. A Comprehensive Guide to AI and Expert Systems: Turbo Pascal Edition / R. I. Levin, D. E. Drang, B. Edelson. — McGraw-Hill, 1988. — 182 p.
Мейер Д. Теория реляционных баз данных / Д. Мейер. — М. : Мир, 1987. — 331 c.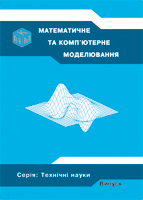 ##submission.downloads##
Ліцензія
Authors who publish with this journal agree to the following terms:
Authors retain copyright and grant the journal right of first publication with the work simultaneously licensed under a Creative Commons Attribution License that allows others to share the work with an acknowledgement of the work's authorship and initial publication in this journal.
Authors are able to enter into separate, additional contractual arrangements for the non-exclusive distribution of the journal's published version of the work (e.g., post it to an institutional repository or publish it in a book), with an acknowledgement of its initial publication in this journal.
Authors are permitted and encouraged to post their work online (e.g., in institutional repositories or on their website) prior to and during the submission process, as it can lead to productive exchanges, as well as earlier and greater citation of published work (See The Effect of Open Access).